Want More Information?
Call us for a FREE VoIP Assessment. Call 605.882.6900 or send an e-mail to jeff@bendixtechnologycenter.com.
Not Ready To Meet Just Yet?
Click here to request our FREE VoIP buyers' guide,
"The Ultimate Guide To Choosing The RIGHT VoIP Phone System For Your Small Business, Call Center Or Multi-Location Office."
Finally! A Business-Grade VoIP Phone System That Will Deliver The Cost Savings You Want WITHOUT Sacrificing The Sound Quality And Dependability Of A Landline
The ONLY Business-Grade VoIP System That Guarantees High Call Quality, Reliability And Service Or 100% Of Your Money Back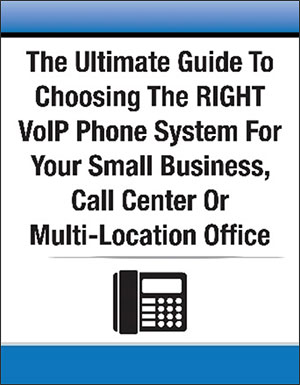 If you've thought about upgrading your phone system to VoIP to save money but hesitated for fear of experiencing dropped calls, garbled sound quality and other notorious VoIP problems, we have the solution you've been looking for.
Thanks to our NEW hybrid VoIP system, you can enjoy all the advanced features, flexibility and significant cost savings of VoIP while getting the high-definition sound quality and rock-solid dependability of a landline.
We GUARANTEE our VoIP system will deliver high-definition sound quality and call dependability or we'll refund 100% of your money. No other phone-system provider in South Dakota will make the same bold guarantee and stand behind it in writing like we do. That's how confident we are that you'll love our VoIP phone system. Plus, our system has the highest retention rate in the VoIP industry at 99.85%.
Cut your phone bill costs SIGNIFICANTLY.  Implementing a VoIP system generally eliminates many phone and fax lines – money that goes directly to your bottom line.
Works even if your Internet goes down. Unlike most other VoIP systems, you'll still be able to make and receive calls, even if the Internet goes down.
Costs less than other business phone systems. Since our system costs significantly less than many other business phone systems, our clients can make the switch and still save money each month. Plus we can offer you easy payment options and even inexpensive leasing if you prefer.
Works with your existing firewall and router. Unlike other VoIP phones, our system does NOT require you to incur the cost and hassle of upgrading your firewall or router and will work within your existing network.
Over 35 advanced features available. Our VoIP system gives you an incredible number of easy and powerful options to take calls, route calls, handle voice mail and communicate. Whether you're making a simple phone call, faxing documents for signatures or holding a videoconferencing session, our system can deliver easy-to-use, top-quality service to get the job done without problems, complexity or failures.
Built-in monitoring and failover ensures your phone system is never "off-line." Thanks to patented technology, if any phone or connection point is knocked off-line, others pick up the calls automatically, essentially allowing the network to heal itself automatically. That means your clients won't get a busy signal or endless ringtone in the event a phone stops working.
99.999% uptime GUARANTEED. We monitor every system continuously with our StarWatch technology, allowing us to guarantee 99.999% uptime. Most importantly, the StarRecovery suite of disaster recovery protections makes it possible for users to make phone calls even if their offices are inaccessible or if the Internet goes down.
Want More Information? Call us for a FREE VoIP Assessment. Call 605.882.6900 or send an e-mail to jeff@bendixtechnologycenter.com.
Not Ready To Meet Just Yet? Click here to request our FREE VoIP buyers' guide, "The Ultimate Guide To Choosing The RIGHT VoIP Phone System For Your Small Business, Call Center Or Multi-Location Office."